Obada
I am Obada from Syria.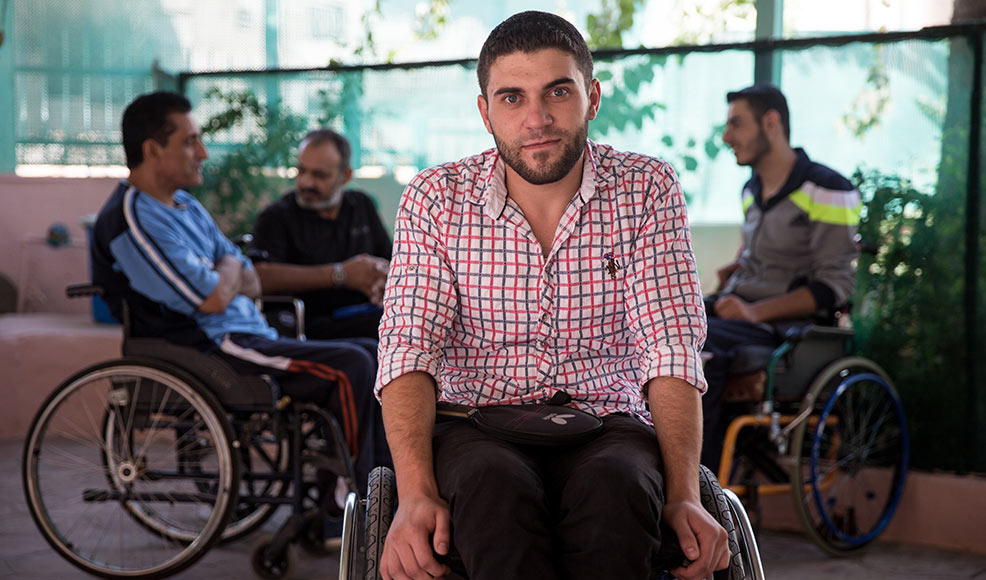 NOTE: Audio description version of this video is available for download.
I am Obada from Syria.
I was crossing the road near a regime checkpoint when I was shot by a sniper, I was at a field hospital but they did not have the ability to treat me there, so they referred to Jordan.
I wasn't afraid. I thought it was just a matter of removing the bullet, but I didn't know. When the doctor said "your spine was hit, your lower limbs have been paralyzed," that was a shock to me.
At the beginning I was in a very bad psychological state. I was only thinking "how could I walk again?" And I was worried about who was around to help me.
Now after I have finished my rehabilitation, I became a different person. It doesn't matter if I walk or not, I just want to continue my life.
The activities I do now motivate people with impairments so they can come back to society again through sport. When people come together to play sports, they firstly meet people with similar experiences and they exchange experiences. Secondly though sports, people start to understand their hidden ability.
One of the other activities that we have done is to improve accessibility in our community like ramps. I live with others with impairments and we go out a lot and we convinced the local mosque and the local shop to install a ramp. We told them "this is not just for us, this will serve all people, for mothers with prams for example." We told them "whatever is good for us is good for everyone."
My dream for my country is to increase knowledge, because knowledge and information will mean our country will become more inclusive for everyone.
People with disability can do anything. Nothing is impossible.
More Stories