Florence
My name is Florence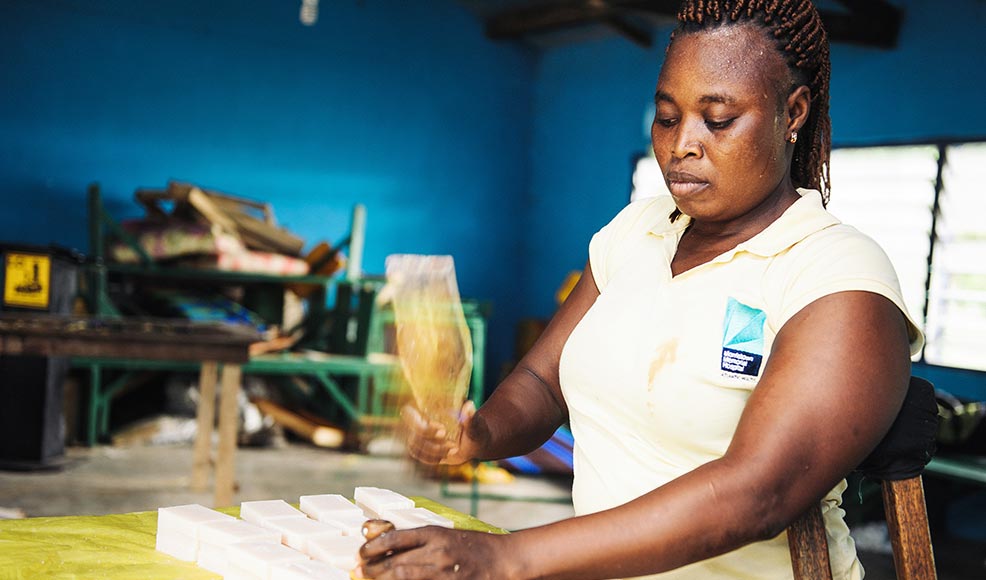 Photographer: Christoph Ziegenhardt, Ghana
My name is Florence. When I was a kid, we were many children in the house and after school we would go under a baobab tree to play. I was at the age of eight years when I got my disability. One day I was playing with my friends, when one of them tripped me and I fell. As a result my leg was twisted badly. It was very painful.
At that time I was staying with my grandparents, and there was disagreement as to whether they should take me to hospital or for local treatment. My grandparents decided to take me for local treatment. One week later, my leg swelled and was rotting.
My grandparents called my parents to come and they took me to the hospital. The doctor told my father that he was going to amputate my leg. My dad and I were crying and telling the doctor that he should not amputate my leg. But he said he had to do it or that I would die.
After this incident, I never liked to come out. I was always indoors, until one day, a sister of mine took me to Accra, to receive an artificial leg. I was at the age of ten when I received the artificial leg.
I later went to stay with my Aunty. I could not wear my artificial leg any longer because she wanted me to work for her, so I stopped using it and started using crutches instead. I stayed with my aunty for 10 years.
When I moved to Sandema I joined the Disabled Persons Organisation (DPO), and I realized there were other people with a disability. When I joined the group I became happy because I realized that I wasn't alone and now I have friends with the same situation. I began to live normally.
I am the leader of the women's group in the DPO and also a leader in the soap making program.
We received the soap-making training through the DPO. We were about thirty that received the training. We started the soap program and are now producing soap.
We benefited a lot from receiving the training we are also paid a wage. My dream is that one day in the future I will open my own shop and will be producing my own soap.
As the women's leader in the DPO, I always lead them into workshops and meetings. We discuss how to fight for our rights, because in our communities and homes, people don't always include us in the decision making.
Until recently, anytime the community was having a program like the Independence Day celebration, and other festivals, people with a disability were excluded. We went to the district assembly and told them we want them to include us in decision making and allow us to participate in any activities in the district.
They were very happy and praised us, saying that we had a good idea. We went on local radio to sing and tell people that now we are no longer excluded. People outside listened to us; they were happy and said it was good. Before this, able people would mock us and did not want to mingle with people with a disability. Now, anytime they celebrate Independence Day and other festivals, we are included.
More Stories