Boun Mao
My Story – Boun Mao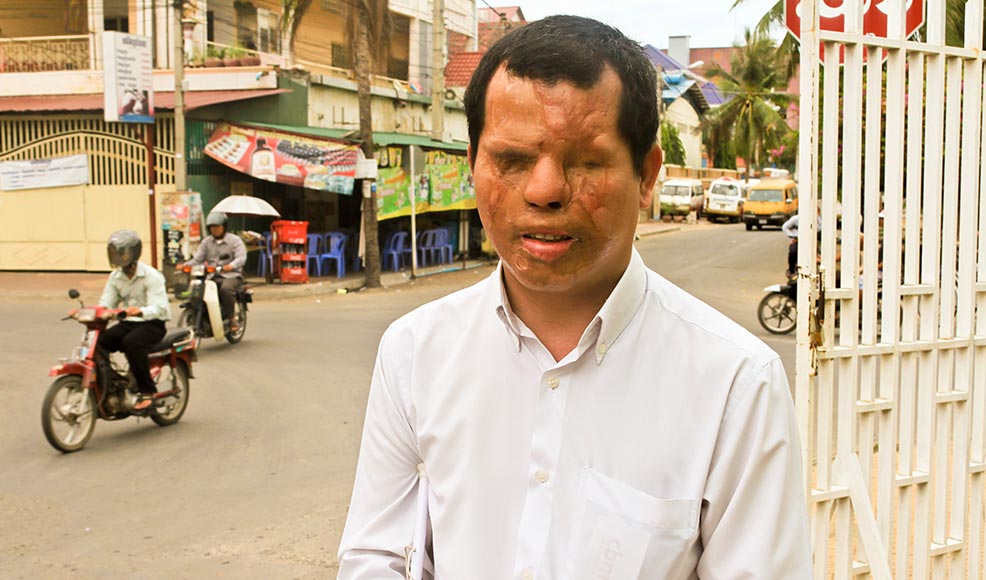 Photographer: Paul Garrett, Cambodia
When I was young, during the Pol Pot regime, my parent passed away and I have a brother and sister who disappeared, we did not live together. I studied at a public school and then went to the University of Agriculture for the Faculty of Forestry by earning my income myself. I didn't have any support from my family so that I decided to earn my own income.
At that time I drove a motor-taxi to earn income every morning. And then one day, 1993 on April 25th, Sunday at 4:30, the robbers threw battery acid on my face. Those robbers, I picked them up from the train station, and then they threw battery acid and then I became blind. They could not restore my sight that time.
I had to learn everything new like orientation, mobility and daily living skills. I had so much discrimination, I felt hopeless and wanted to commit suicide. I felt that I had become blind, and had no support so how could I earn an income and live?
When I became blind and I walked around, the public always discriminated, especially because my blindness is not like others, being blind from a burn. So they are scared of me.
I went to do vocational training and I attended training rehab [to get] my skills back again with the blindness. I regained skills for living as a blind man, and also Khmer Braille and English Braille and also massage skills.
Then we started our own massage clinic, with another four people who were blind. As masseurs, we joined together to open the clinic to earn income. We set up the organisation [Association of the Blind in Cambodia] and have been helping many blind people. We have 14,700 affiliate members and we have around one thousand blind and vision impaired members.
We cooperate with schools, sending the blind children for special education, integration, and inclusive education now. Lastly, we do the low vision – finding the low vision children and then we get them to the eye doctor for checking the eyes. We also provide glasses and magnifiers and then we send them back to study at the public school in their community.
People with disability should be widely educated and advocate to the other people to understand that the people with disability have capacity and ability to do things. I think all the people with disabilities should have equal rights to receive all opportunities. They need to receive the same education, the same opportunity for employment and the same health care as the other people who do not have disabilities.
There needs to be advocacy to the public through TV shows, radio and newspapers, especially to show exactly the capacity and ability of people with disability. Then the public will understand and can release their discrimination and treat them with equal opportunity.
Poverty and the disability are linked together because when you are person with disability, poverty comes up also.
More Stories