Martha
My name is Martha, I am 25 years old.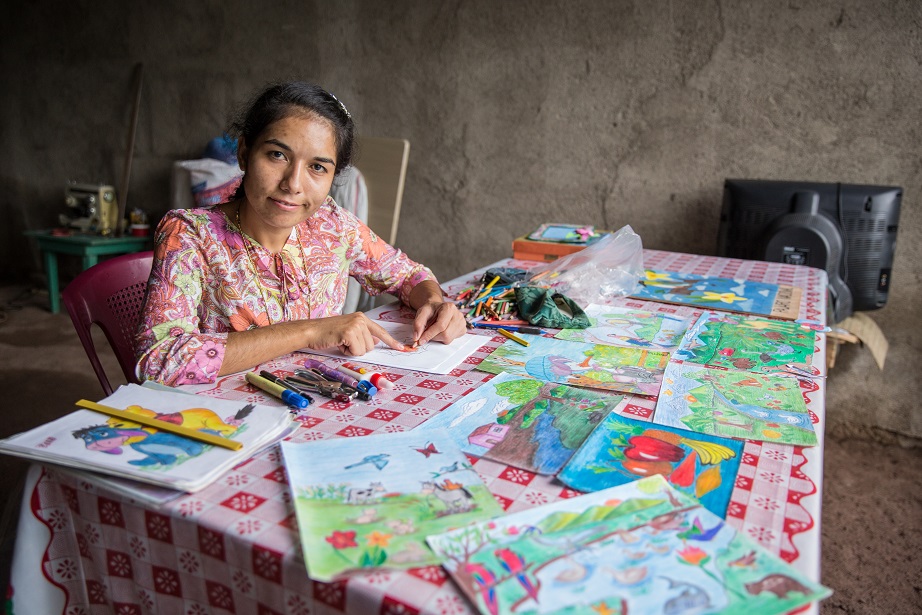 I was 7 years old when I went into the First Grade and learned how to write. It was difficult for me because I didn't have an interpreter.  I was there for four years.
When I was twelve years old I went to a school where the students had interpreters. I was very happy because now I knew how to write and I was able to communicate.  So it was easier for me and I learned other things; for example, I learned how to weave and do other things.
I learned how to draw and I had a teacher who helped me get better in what I was doing and I also learned how to paint.
However, I didn't graduate in that school, because they didn't offer all the years of High School. In order to graduate, I attended another school in Juigalpa.
It was hard because it is a long trip, every single day. It was hard also because not everybody was able to understand me. In the end I was able to achieve my goal, which was to graduate.
My family has always been very supportive and when I came back home my family continued to help me a lot.
I knew a person who was also Deaf and this person here has helped me learn more signs and everybody was working hard because they wanted me to be happy here in my house. But I get bored here because not everybody is able to understand what I want to say.
I have gotten very good at weaving. I can do pretty much all I want when it comes to weaving and decoration on fabric. And I am also now creating things that babies can wear. So I am waiting, and I know that God is going to provide me with customers and I know that God is going to give me the wisdom I need.
In the future I want to go to Juigalpa and paint there – maybe selling my art. I have also thought about visiting Costa Rica or the United States or Australia.
So all the places that I have mentioned, they are a possibility in my life but for all of them you need money and you need to work in order to get money and I don't know how to get that money. And another problem is that I always need someone with me because I am a Deaf and not everybody is able to understand sign language.
God and the Virgin are always taking care of us and I do believe in that. I am very happy.
More Stories