Charles
My name is Charles. I was not born with disability, but I fell ill with measles when I was three years old.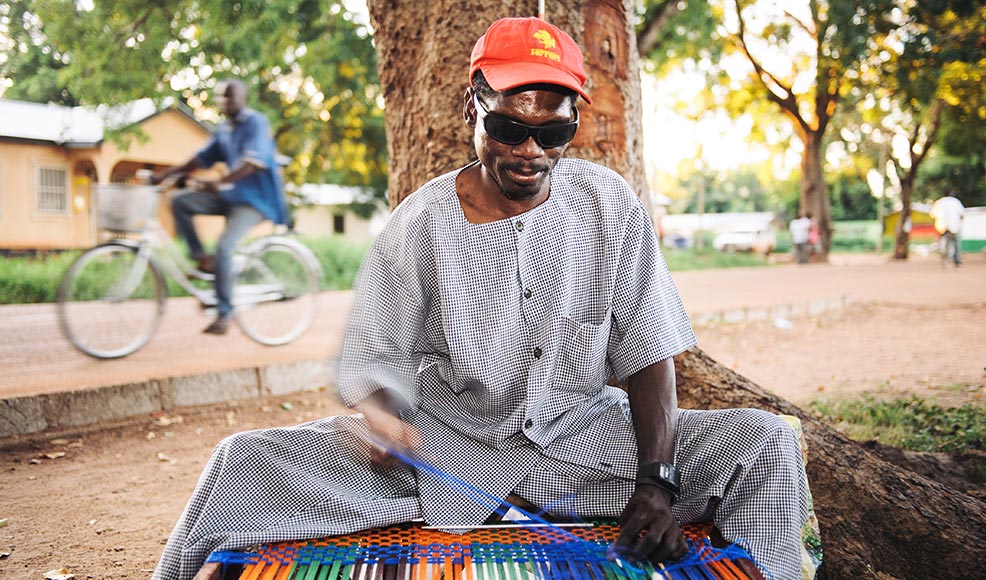 Photographer: Christoph Ziegenhardt, Ghana
At that time the availability of nurses was a problem and my parents did not know about the hospital.
There were rashes all over my body and later on I got blind. I became blind at the age of three years and four months.
When my parents realized that I was blind, they did not say anything. My mother was crying when she realized that I am blind. I was still having friends, going out with them, but not all the time.
I did not have access to education because of my disability. I wanted to go to school but my parents did not know about education, or even who to contact to get to the visually impaired school. After realizing that I could not access education, my future plans were to become a farmer.
My relationship with my father was great because he taught me how to farm and how to weave local baskets. The only unfortunate thing is that my father did not help me to have access to education because of ignorance.
I became self reliant after receiving vocational training through the local organisation Sandema CBR. I heard an announcement on the radio that there was an opportunity for people with a disability to go and learn handy work.
I left my community and came to Sandema where I stayed with my sister. I joined the Disabled Person Organization (DPO) in 2003 and I received three years training on how to weave tables, door mats, and beds.
After I joined the group I became happy and felt better. We have been encouraging one another not to sit idle but to work hard, to gain a living so that we could get food to eat, soap to wash.
I learned an important thing from my colleagues and that is, most of my colleagues were married, so I also put an effort in to get married. I never believed I could get married because of my blindness. I thought I could not afford to take care of a wife, like clothing her, or providing shelter. But I got married.
I'm now independent. Having a companion that is my wife, gaining income for living through my weaving, this training has helped me a lot. I am excited because I have work and am self employed; I am now getting an income. I am married, and I have a child; a young boy who is four years old. In the future when I have grown old, he can take care of me.
I am happy because people respect and value me with regards to my achievement. They realize that they have wives – I also have a wife, they gain income for living – I also gain a living, they have a child – and I also have a child. I am also the leader for the blind union, so my colleagues realize that we are all the same, so they respect me a lot. 
More Stories