Atugurilie
My name is Atugurilie. I am a visually impaired person, and I am 55 years old.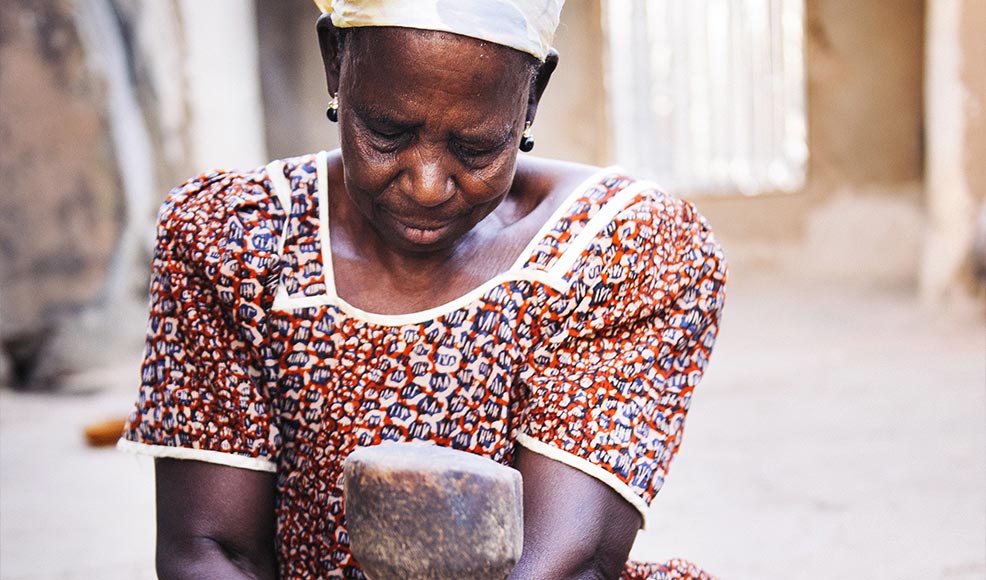 Photographer: Christoph Ziegenhardt, Ghana
My name is Atugurilie. I am a visually impaired person, and I am 55 years old.
I was not born with blindness, but at the age of four years measles attacked me. My parents realized my sickness, when one day I was crying and there were rashes all over my body.
After I was attacked by the measles I couldn't see any longer. I lost my sight and I could not walk with my friends like I used to. I didn't think of gaining my sight again. I was frustrated with that because I was always in the house.
As I grew up I was given for marriage by my aunt and uncle. I was 18 years of age when I got married. It wasn't disturbing me that they gave me to the man, because I also loved him.
We had four children. It was difficult to take care of my children as a result of my blindness.
My husband died from sickness, he began complaining of stomach pains and later passed away. When my husband was not there I and my children really suffered. My first born could not continue his education, and I could not afford to help them with their school any longer.
My brothers and sisters were there, but the family is so large and all depended on my husband. So sometimes I would go to my siblings and beg for food to support myself. I did this for 10 years before the local organisation "Sandema CBR" found me.
Presbyterian CBR supported me to start my business which is rice processing. I could earn an income to pay my youngest daughter's school fees and feed the family as well. I have since started shea nut processing also, which is what I really enjoyed doing and I benefit much from it. So I now focus on the shea nut processing and shea butter soap making. Now I don't have to go beg for food from my siblings. I am independent.
I became an advocate for a member in my community who was a physically impaired boy, and always kept in the house. I approached his father to take him to the local partner for support, but because of poverty his father did not go, he complained of not having money to send the child. So I went to the Sandema CBR office and told them about the child's condition. I took the partner to the boy's house and they allowed the treatment for his legs. Since then, the boy learned to walk and also started his education, and he is now a university graduate!
I have been talking to people with a disability about CBR intervention and treatment, since then. I am the Blind Union president. Our union is called called "Akanyadogdema" which means Blind Family.
My role in the Blind Family is to encourage my fellow blind people to attend meetings, to participate in workshops and I encourage them not to sit in the house, but to work hard and pay back their loans especially when they are due. That is why today I can be proud of myself.
More Stories