Lotus
My name is Lotus and I live in Gaibandha.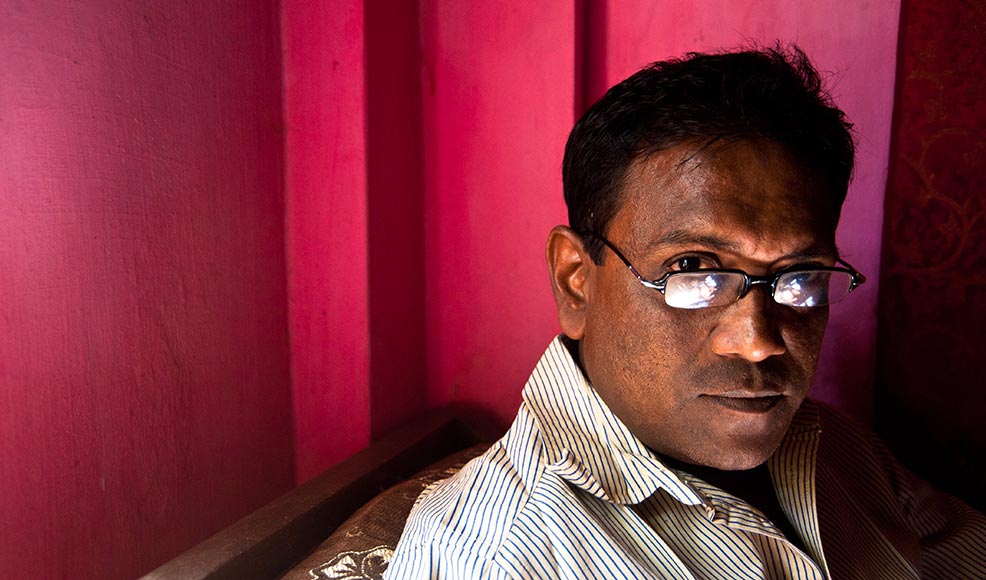 Photographer: Wahid Adnan/Drik, Bangladesh
In 1998, there was an accident and I lost my total vision. After that I took different treatments so now my condition is that I am a person with low vision with almost 90% vision lost. I can see light and shadow only.
I had a good life before the accident. I was involved with many things. I worked as a journalist and I was also involved in politics.
But after that accident my confidence was gone, so most of the time for many years I stayed home. If I did go out my wife was always with me. It was very difficult for me. I had had some money in the bank but all the money was spent for treatment for my condition. It was a very hard time for me and my financial position deteriorated.
Then I was identified by a local organisation, GUK, and they invited me to attend leadership training. I attended the training the first day with my wife. They said that I had to come alone, not with my wife. I was afraid. I told them I was not used to going out alone, but they said, 'You will have to try!' So the next day my wife came with me for some of the distance, then I took a rickshaw, all by myself. The second day was a little bit easier for me and the third day even easier. In doing that, my confidence was built and I started to move around the community and to different places.
After that I also attended a GUK training on human rights for people with disabilities. Then, when the local organisation was confident that we could go on by ourselves, we established a group which is called the Local Ambassador or LAM group. We do many types of things: we were involved in organising disability cards, making sure people get their disability allowance and going to meetings. We support persons with disabilities when they are deceived, raped and also when there are conflicts or trouble with land ownership. We became so popular that people come to us with their problems; we go and help them solve their problems. I am also a member of the Disability Allowance Implementation Committee.
People with disabilities are vulnerable. But unity brings power. In most of the cases persons with disability are alone; they do not have access to justice. The LAM group has unity and power which helps people take action.
I'm working again as a journalist. I write features about different issues on people with disabilities and others also. But my priorities are persons with disabilities.
There are many organisations working but most of them don't focus on persons with disabilities. If there were more active groups like ours, it would be a very good thing for persons with disabilities. We also need more promotion, like the positive things about people with disabilities and what they can do. We are doing many things, but people don't know. More people need to know about us.
More Stories