Khalid
My name is Khalid from Jordan.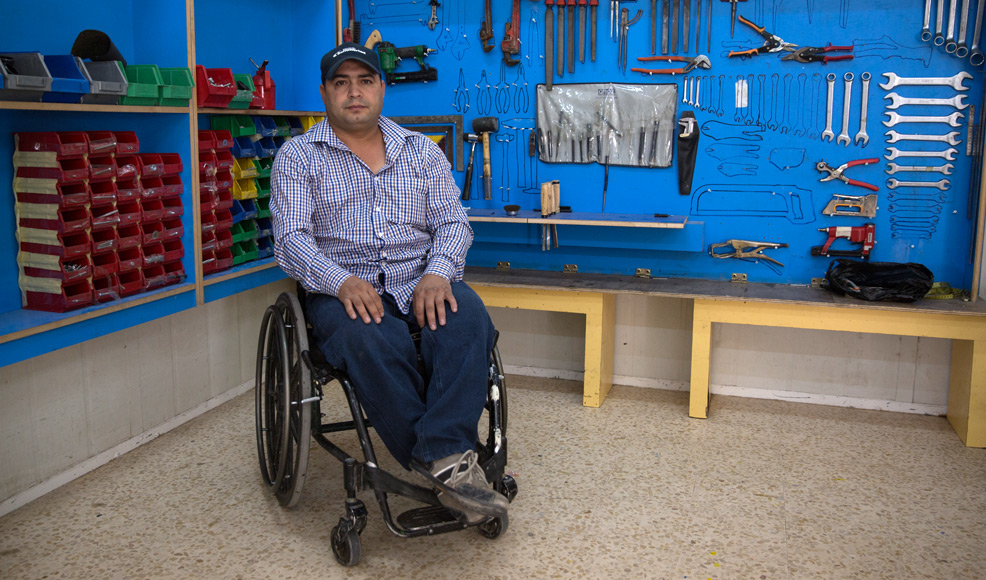 NOTE: Audio description version of this video is available for download.
My name is Khalid from Jordan.
I was born in the city of Ajloun in Anjarah.
I was infected with polio due to not receiving the vaccination for the virus and accordingly I became paralysed.
At the beginning of my education, my parents faced a problem getting me enrolled in a mainstream public school.
My parents searched for a school that I could attend in Ajloun, but there were none, so I had to go in Amman.
I was very young, I remember those days, I will never forget them. I felt like I was the same as anyone else.
I wanted to complete my studies. It was a beautiful feeling like anybody else who's going to complete their studies.
Now I work at the Al Hussein Society, as a technician for wheelchair maintenance and alterations.
When I use the saw and other similar tools for say, cutting wood, it prompts me to keep going. It certainly brings me joy using my hands and my mind.
My job description is effectively divided into two parts.
The first is maintenance of equipment.
We look to see what will serve the person best and also look at their health issues.
We also do environmental alterations for people with disabilities.
Such as ramps, toilet facilities, window lowering and other functional facilities that help people with disabilities to gain accessibility.
For example at schools, medical facilities, even homes. We do these alterations.
Now I wish and I hope that facilities for people with disabilities will improve in Jordan. Not only for those living with disabilities, I hope for all people.
More Stories