Francis Kennedy
My name is Francis Kennedy.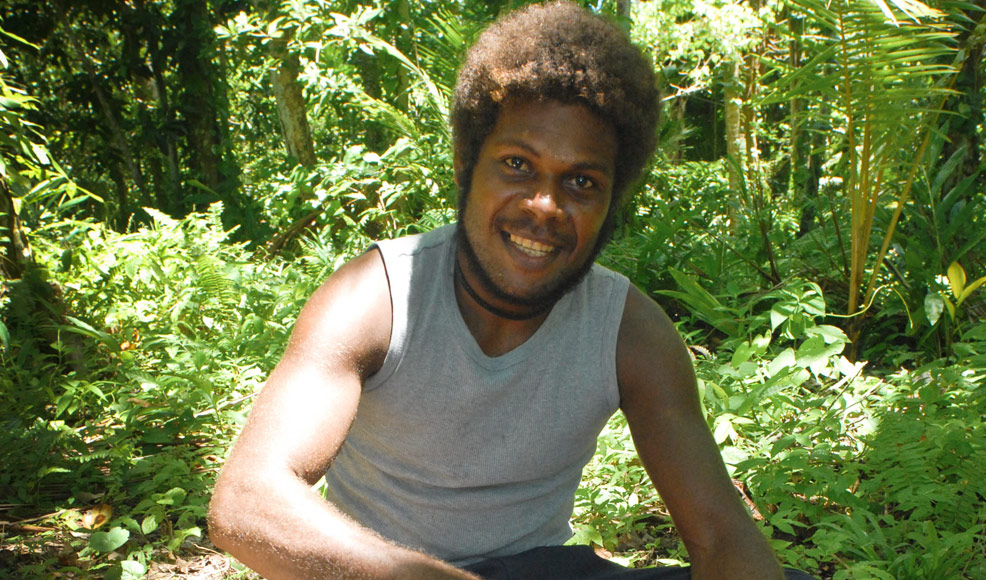 Photographer: Greg Low, Solomon Islands
I'm from this village. I did my school here in primary, then for my secondary level I went to Dom Bosco school, and from there I did my training centre studies. But in form 2, I started feeling the problem beginning. I couldn't really concentrate and after that, during my three or four years I started to get sick. I didn't really have good concentration for my studies and during my Form 6, I think it was too big – I didn't complete my studies that year – so I finished at the school. Then I came back here at home, and I didn't complete my studies.
I really can't explain – I don't really know what the problem is but it is something to do with my brain. And that has affected me with my education and I really can't concentrate, even if I read I really don't understand so it's really affecting me, it's something that comes from my brain.
I still have treatment from the doctors.They told me not to concentrate much – too much thinking about many things – that makes your mind not good with too much thinking.They still give me the treatment and I still continue with the treatment for now. When the treatment is finished then I will go have a check up.
My aim for when I completed my school was that I wanted to work for the church as a priest. I still want to be a priest – I'm still interested, but because of this disability of mine, I have no hope for becoming a priest.
My parents and my people still support me, though, with this problem, they send me to the hospital and they still feel good towards me. Many people didn't know about my problem and they still don't see the problem. Only my family know about the problem.
My normal day is to just stay with my family and do what my family want to do. I will just go and help them, doing particular work in the family like brushing gardens in the bush and doing the work like that. My family earn an income from the copra and selling it at the market. I work a lot with the copra.
I have no time for a rest. So I just help my parents and my young brothers and sisters.
I know that it's my right to be married or to go to school, but it all depends on my problem, the sickness that I have. I will see if it is okay, then I'm going to get married. It all depends on the sickness that I have.
More Stories